Those loose women have a lot to say….and thankfully a lot of stuff to give away too in the itv Loose Women competition which often beats the prizes offered on some of the other big TV shows! It's hard to believe LooseWomen is more than 20 years old, for some reason it still feels like one of ITV's "newer" shows.
Find out all about the latest LW comp below.
The Latest Loose Women Competition:
This Loose Women and Good Morning Britain competition prize is for tax-free cash prize of £100,000. Postal closes on Thursday 9th November at 4pm.
How to enter 👇
✉️ Postal entry: Cost FREE. Closes on Thursday 9th November at 4pm. Post Name and Number to: BK40, PO Box 7558, Derby, DE1 0NQ
🖥️ Enter online: Cost £2. Closes at 2pm on Friday 3rd November. Cost £2. Enter via www.itv.com
💬 Enter via sms: Cost £2. Closes at 2pm on Friday 3rd November. Text WINNER to 65557. Cost is +1 standard network rate message (To opt out of marketing, end SMS with 'NO INFO'.)
☎️ Enter via phone: Cost £2. Close at 2pm on Friday 3rd November Call: 09068 78 5557. Cost is + standard call charge.
N.B Winsday Draw tickets are ONLY available via Online entries!
This itv.com prize is tax-free cash prize of £75,000. Featured on Good Morning Britain, Lorraine, This Morning, Loose Women. Closes on 4pm on Tuesday 7th November 2023.
We update the website as soon as the latest competition is announced and provide all the information you need to enter. Visit the TV Comps homepage for more. 
As per most STV and itv.com competitions, you can enter the Loose Women competition more than once, however we recommend you check the itv.com/win T&Cs as these can change at any time. Prizes and cheques are always made out in the name of the winner so be sure to enter the correct details when entering.
It is also recommended that you use the postal entry method to save the £1.50/£2 fee for entering via telephone, text or online (approximate cost only –  they have been known to change!). Entering online via the itv.com competitions form is easy if you're short of time, as is the text message method however be careful how much you spend with these premium rate numbers. At TV competition we'll make sure you never miss the chance of entering the Loosewomen comp – they're all listed here 🙂 Note that sometimes Loose Women competition is also shown on Good Morning Britain, This Morning and Lorraine.
The Loose Women competition prize is always a biggie, although perhaps not as much imagination goes into it as the other shows in terms of the prizes available; there have been a lot of cash prizes (with a few holidays thrown in!) recently. Not that £30,000 cash is anything to be sniffed at; spend it as you please without constraints! Competitions are usually ran over the course of a week, however they have been known to span multiple weeks…and there's even been the odd daily competitions. 
History Of the ITV Loose Women Show
First aired in 1999, Loose Women is the top UK daytime TV show for celebrity gossip, with current affairs being treated in a much more light-hearted manner than in the earlier part of the day by shows such as Daybreak & Lorraine; keep it fun, keep it funky, keep it Loose Women!
Loose Women airs around our typical UK lunchtime on the ITV television channel, STV in Scotland and UTV in Northern Ireland – aka Channel 3. It is the light-hearted, unfiltered banter between the guests, panel (and occasionally the crew) which have made it such a success; so much so that 20 years later we are still glued to the telly. On its launch LooseWomen was slammed by some people for being too loud & too feminist. It was the late 90's and early noughties; the Spice Girls had put girl power on the map a few years earlier, Channel 4's late-night The Girlie Show followed with Sara Cox et all and the Britpop laddette culture and thus these loud, brash and feminist LooseWomen features really contributed to the longevity of the show, putting women first at a time when most shows were previously hosted by men (or at the very least, co-hosted by a man).
The TV competition is a common tactic used by many television shows to hook viewers in, engage them & get them talking; it works! The viewers know the competition is coming and are eager to participate and Loose Women was no different. Given the quirky nature of the show they sometimes threw in branded gimmicks such as winning your own printed Loose Women coffee mugs (just like the ones the panel members have).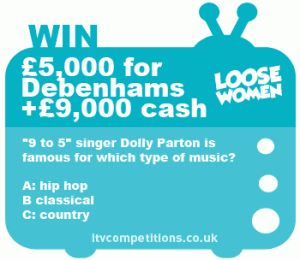 Back in the days when competitions were more fun with questions and "proper" free entry!
So be sure to enter the competition every week (NOTE: sometimes the bigger prizes span multiple weeks and shows such as This Morning or Lorraine) and remember you can enter more than once…just  be sure to check the itv com terms and conditions to find out how many times. And be careful of your phone bill or paypal account if you are entering using the premium rate entry methods.
As a rule, we post the basic information on how you can enter the Loose Women competition, deadlines and prize details on the comp info pages and the link to the itv online entry form.